Technology is a field that used to astonish even those of us who closely followed it. It would occasionally surprise us with technological innovations that seemed straight out of a futuristic movie back in the '90s. But nowadays, these astonishing technological advancements appear daily. I'm constantly amazed when I open social media and witness the speed at which innovations like cloud computing, data science, artificial intelligence, machine learning, cryptocurrencies and more are transforming our world.
However, in the casino business, technological progress historically hasn't been as fast as in other industries, even though it's a fundamentally technological sector.
It's time to change that, not just for the profitability of the companies but for the well-being of our players.
Even before online gaming, the gaming industry collected a wealth of data from its operations. But many of these data points were never processed or transformed into useful information; instead, they lay unused for years in proprietary CMS in-house storage. In some cases, they were eventually uploaded to the cloud.
This was akin to having access to a gold mine without knowing how to extract the gold.
The reality was that making use of this wealth of information was costly: Providers' data were top-secret, and advanced data management solutions weren't as readily available. If reports weren't present within the application, they had to be requested from solution providers, who took their time generating them, at best. Data analysis was primarily focused on making marketing budgets more efficient and deciding which products performed best in the casino, perhaps for future purchases.
Data management and analytics tools have come a long way since then, and are more powerful and affordable than ever. It's now possible to leverage all those terabytes of data and truly understand what transpired during the years when business KPIs fluctuated.
With this information, we can design the best strategies for a newly competitive economic landscape. Not only that, we can finally get to know the customers — their preferences, motivations, expectations — essentially understanding who they are as individuals.
And there's even more good news, in that many in the gaming industry won't have take much time to adjust. Certain platforms are already cloud-based, work with standard and accessible storage solutions, and feature already-implementd advanced data analytics solutions, allowing insight into the behavior of each user.
What are we missing? (The iceberg analogy)
When I was invited to speak at the Peru Gaming Show this year about how technology contributes to responsible gaming strategies, I contemplated the need to see beyond what we currently observe. That's when the idea of an iceberg struck me: An iceberg only shows a small portion of its entirety. What lies below the water? What can we see, and is it deceiving us?
In gaming, we have players who understand their problem and take action. They self-exclude, set gambling limits, seek help and educate themselves. Most of the statistics provided by regulatory bodies today come from this visible part of the iceberg. But they fail to consider the complete scenario. What lies beneath? Who are the problem gamers who aren't voluntarily showing themselves? These people pose risks to any casino, because it's possible that the biggest part of the iceberg lies in wait — those who aren't identified as players with gambling problems, either because they're aware of their problem but haven't disclosed it to anyone, or they're unaware or unwilling to acknowledge their problem and continue playing.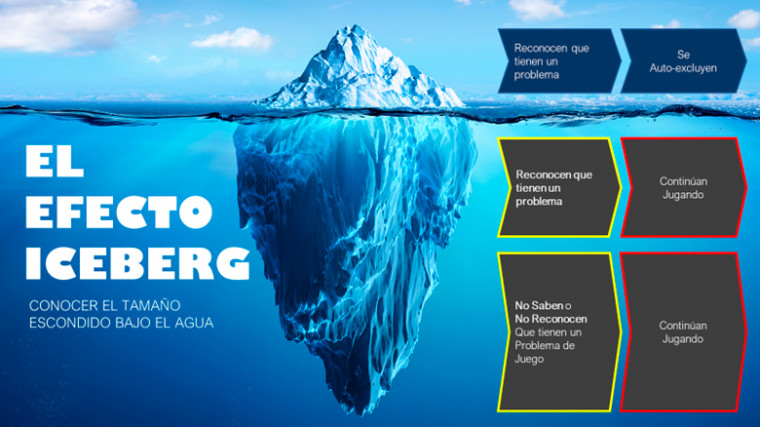 What do the statistics say?
According to a 2022 report by the Responsible Gaming Corporation in Chile, the issue of unrecognized problem gamers is significant – between 12.5% and 14% of players. Simultaneously, a report compiled by Playtech with data from Argentina, Brazil, Chile and Colombia revealed reasons why our industry might not appear as attractive to new players. Between 11% and 14% of respondents expressed concerns about losing all their money or becoming addicted; 17% to 32% of them lacked sufficient knowledge about safe gambling practices; and 10% to 17% didn't trust in online betting companies.
These numbers clearly indicate that there is still work to be done.
Proactive or reactive approaches?
First and foremost, we need to define the ultimate goal of introducing responsible gaming strategies and tools to operations and regulations. Is it merely to check a box and claim that we are doing something, or do we genuinely want to diagnose the size of the iceberg clearly and find real solutions?
Currently, many solutions fall into the former category, addressing only a small part of the problem and responding to those players who openly acknowledge their problem. We're reactive. We have players fill out self-exclusion forms (often on paper), which are challenging to manage to ensure compliance.
A slightly more advanced approach involves digitizing this information and allowing players to set their own limits (game time, spending, payment methods, etc.), but we're still focused on reactive solutions, focusing only on the protruding part of the iceberg.
Is there a better way to be reactive? The aim is to identify risky gambling behaviors in advance, detecting, studying, analyzing and measuring gambling behavior in players who deviate from their usual parameters, whose tendencies indicate increasingly aggressive gambling, more time spent playing, increased spending, increased betting frequency, and so on. Armed with this information, we can truly understand the extent of the problem and then devise plans to address it. The information isn't lacking; it's simply a matter of intent.
Where are we missing the mark?
Fortunately, most stakeholders are becoming more aware of the need for a proactive approach. The problem is that not everyone is considering solutions with a "single identity" view of the player.
What do I mean by this? Imagine a player, let's call her "Maria," who recognizes that she has problems managing her gambling limits. She can't spend more than $500 a week and stay within her budget, and has decided, based on recommendations from acquaintances, to set limits on the platforms she uses.
However, as we know, problem gamers tend to deceive themselves. Let's say Maria sets limits of $500 on the platforms she uses and sticks to them. From the operator and regulator's perspective (if the reports even reach them), she's in control of her gambling. But Maria still has a problem with gambling addiction — and because she's been checking off the boxes and no more, she's still completely invisible to their responsible gaming efforts. Without a solution that consolidates Maria's data from various platforms, she will continue flying under the radar as a player at risk and remain untreated and without the support she needs.
The same issue arises with self-exclusions; detecting players as they move from one operator to another is challenging, and it's even harder in physical casinos, due to the lack of legal support for advanced player detection tools.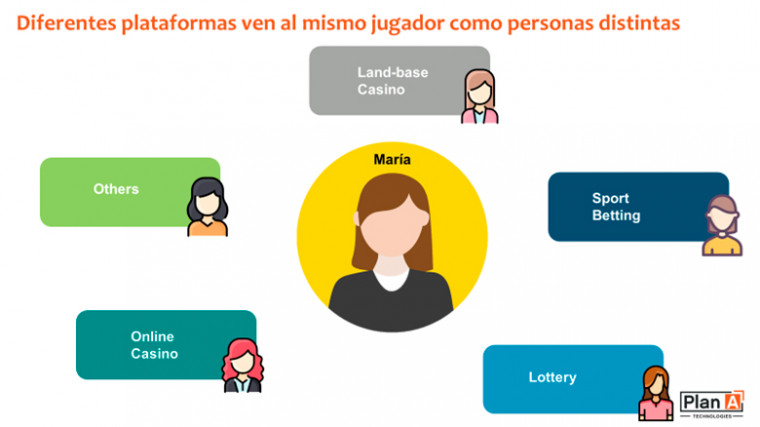 Single identity: The solution for player welfare
The concept of a single identity is the primary tool operators and regulators need to identify, monitor and generate plans to provide the necessary care to people with gambling problems. It does this by using data to fully understand their player lifecycle.
This concept relies on omnichannel implementation, allowing data to be consolidated under a single ID regardless of where the player engages in gambling. To achieve this, operators need technological know-your-customer solutions to uniquely identify each player across various platforms and operations and link the information together. Technologies like artificial intelligence are key to predicting harmful behavior based on historical gambling patterns and trends.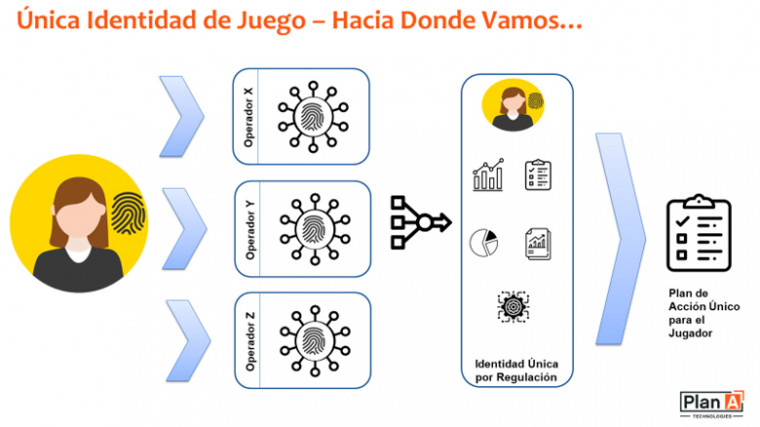 We have the tools. Now we need to set the stage.
Having the necessary tools isn't enough. We must combine this with the conviction to achieve it. Today's technology brings such solutions within reach, so now the challenge is the creation of an environment that lets us use them. These changes don't happen overnight; they're gradual processes, starting with defining a vision and then crafting a plan involving all industry stakeholders.
Other applications of the model
This same model can also be used to combat fraud and money laundering. By having accurate information on gambling behavior, it's possible to analyze patterns using machine learning tools to identify potential cybercrimes.
Integrating technology into responsible gaming efforts is vital for safeguarding players and addressing gambling-related issues more effectively. By utilizing advanced data analytics, and getting humans to learn, adopt, and supervise these methods, the industry can proactively identify and assist players at risk, offering a more holistic approach to responsible gaming practices. With the tools at hand, it's now a matter of setting the stage and fostering a collaborative, industry-wide effort to promote responsible gaming and ensure a safer and more enjoyable experience for all players.
Plan A was founded by software entrepreneurs who built and sold several multimillion-dollar companies. After hiring several not-so-great outsourcing companies, they decided to launch the software engineering company that they always yearned for, but could never find.
Its award-winning team is comprised of backend and frontend software engineers, technology researchers, UX experts, inventors, graphic artists, former CIOs and CTOs, project managers, futurists, and more. The firm provides smart, reliable tech talent at great prices, and it augments that with honest advice from seasoned experts.
This article first appeared in SoloAzar.